Searching for your perfect property is both an exciting and anxiety-inducing adventure. With so many things on our plates, its no wonder that furnished apartments and homes have become increasingly popular in recent years. While a furnished rental or purchase is convenient and incredibly economical, some renters/buyers feel it is a bit impersonal. If you're in love with a property but not married to any of its furnishings, don't let that deter you. We've complied some simple, cost-conscious ways you can make your new furnished property uniquely yours.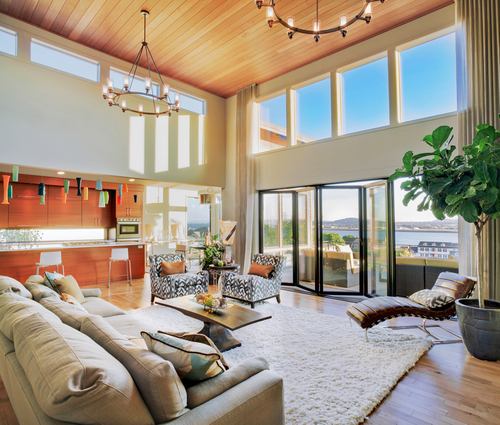 Furnished Rentals
A furnished rental is a great idea for those on a tight budget, or for those in more in a transitory phase. While most furnished apartments come with all of the essentials, customize the space by adding some of your own touches:
Personal Mementos - Make your furnished rental feel like home by incorporating photographs of friends and family. Create a picture collage on a bare wall of your favorite artwork, or of images that inspire you. Invest in some smaller, decorative items to place throughout your rental, giving each room a touch of your own flare.
Introduce Color - More often than not, furnished units are decorated with neutral colors and lack a true theme or identity. To make the space feel more personal, bring in pops of color wherever you can. An easy way to accomplish this is through decorative, funky pillows, or a bright, patterned area rug. Don't be afraid to swap out certain items during your tenancy. If you hate the bedspread, store it the hall closet and purchase one you love. If you hate the tired, maroon-colored futon, simply buy a new cover in a style and color you like.
Fake it Till You Make It - Plants and flowers are perfect decorative items to give your rental some flare. Fake plants are available in all shapes, sizes and colors, and require absolutely no upkeep. These potted wonders are ideal for those who travel frequently, or those who lack the genetic "green thumb."
Purchasing a Furnished Property
For potential homebuyers, furnished properties have upsides and downsides. While you'll save thousands of dollars in furnishings, money you can either save or devote to a special home project, you may not be thrilled with every item, or the price tag that comes with it. Try to negotiate with the sellers on items you love vs. items you're indifferent to.
Musical Chairs - Naturally integrate some of your own furnishings with that of the previous owner. Mix and match items, and move things around until you find a setup that suits your needs. Just because the home was staged a certain way doesn't mean you have to keep it that way. Remember that things don't have to match, they just have to go well together.
Color Makeovers - Spice things up and paint your walls. You can start small and focus on one room or you can rethink your entire color palette. Explore options like removable wallpaper to achieve a truly customized aesthetic, or to give a room a much needed punch. Explore crown molding or replace your current baseboards to give your home that polished look.
Host a Garage Sale - If, at the end of the day, you're left with some items you just can't stand, host your own garage sale. This is the perfect way to earn some additional cash and will also give you the opportunity to meet your new neighbors.