The seasons are changing and the excitement of the holidays is in the air. Those with families and friends sometimes take for granted some of the wonderful things that we have in our lives – food on our tables, family that care about us, friends that look out for us and make us laugh.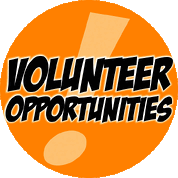 However, there are many out there that are unfortunately not as fortunate and not as lucky. Though we should be thinking of them year-round, the holiday season is good time to take a little time out of our lives and give as much as we can to help others.
Each day, hunger is experienced in every community across this country. In fact, our network feeds over 37 million neighbors each year. Ending hunger in America depends on the volunteer work of literally millions of Americans who know that they can make a difference.
There are as many different ways to volunteer, as there are individuals and communities across this country.
On-going Volunteer Efforts
You can help out in your local community through activities such as:
tutoring kids at your local Kids Cafe
repackaging donated food for use at food pantries
transporting food to charitable agencies
clerical work at the National Office
It's simple - get involved today - and get your family and friends involved. To find opportunities in your area, please contact your local food bank.
Disaster Response Volunteers
Volunteers are needed across the country to support our network's commitment to the survivors of disaster-affected communities.
You can help out in your local community through activities such as sorting, boxing and repackaging donated food to be directed where it's needed most. Addressing the needs of displaced survivors will be critical over the next several months.
Contact your Feeding America network member to see how your help is needed.