Building an eco-friendly home is beneficial to you and the environment. Eco-conscious building is a method of home construction that is rapidly growing in popularity. If you're in the early stages of construction, forgo the use of unsustainable materials. Instead, reduce your carbon footprint through the use of green materials.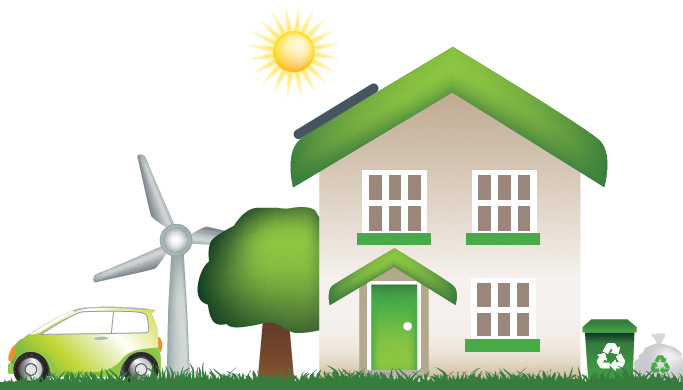 You can begin the process of building an eco-friendly home with the lumber you select. Look for wood that's sustainable or clearly identified as coming from a managed forest. Salvaged hardwood flooring is another eco-friendly alternative. You might also want to pursue one of the newer environmentally conscious options called structurally insulated panels. Using these panels can reduce the amount of wood you need to purchase for the construction of your home.

An eco-friendly interior design involves selecting flooring that is made of a recycled or renewal product. Bamboo flooring is an affordable, durable flooring option. Bamboo flooring can be incorporated into any style of decorating. Similar in versatility to bamboo flooring, cork flooring is a moisture resistant and insulating flooring option. For the kitchen and bathrooms, you may opt to install recycled metal tile. This is an ideal choice for a modern décor.

The counter tops you select for your new home can also be made from eco-friendly material. Butcher block counter tops are available that are made from reclaimed wood or sustainable wood. Natural stone will add an element of sophistication to your kitchen or bathroom. Cork or bamboo flooring will complement any of these counter top materials.

When you're building a new home, it's a good idea to look to the future when making your selection of appliances. Energy saving appliances may initially cost more than the less efficient models, but over time, you will save more money with the energy efficient designs. The same idea applies to the windows you select for your new home. Double pane or triple pane windows will save you money on your heating and cooling cost. Depending on the location of your home and the amount of exposure it has to the sun, you may want to install windows with a coating that reduces the amount of light that enters the room.

The use of alternative energy can reduce your energy costs. You can begin incorporating alternative energy into your new home simply be situating your home so that you can gain optimum benefit from the sun. Choosing large windows and allowing as much light as possible to flow into each room will reduce the need for artificial lighting during the daytime. Sunlight can warm your home in the winter. In the summer, when the goal is to keep cool, you can use room darkening shades and thermal window treatments to block the sun.

There is an extensive variety of materials available to help you achieve your goal of building and living in an environmentally friendly home. You don't have to forfeit beauty for environmental consciousness. Eco-friendly products such as bamboo flooring, recycled tile, and sustainable wood products will add beauty to your home while giving you the satisfaction of knowing you're choices helped the environment. Each opportunity you seize to utilize alternative energy will save you money for the duration of the time you live in your home.
Erin Devine is a guest author from DIY Home & Floor, an online resource for all things do-it-yourself interior design. She is also a contributor for Floor & Décor Outlets, writing articles for many real estate and home renovation sites around the web.