Whether you're moving across the country or across town, moving is always a little bit daunting -- and packing is often the hardest part. But with the right preparation, it doesn't have to be. By getting organized, packing carefully and avoiding rookie mistakes, you can be sure that your belongings will arrive intact -- along with your sanity.
1. Start off with the right supplies
Avoid multiple trips to the store by setting yourself up with a full inventory of packing supplies. Here are the basics:
Bubble wrap for fragile items
Tissue paper or blank newsprint (newspaper ink can stain)
Plastic zip-top bags for collecting small items together
Strong packing tape
Labels and markers
Stretch wrap for securing doors and drawers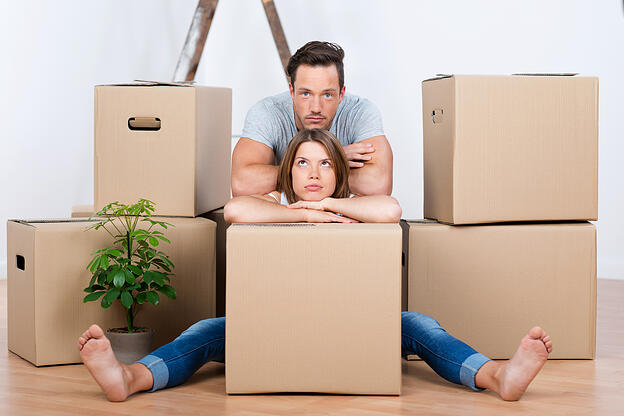 2. Collect a variety of boxes
Sure, you can snag some free boxes at the grocery store, but you'll be limited as to size and quality -- You never know what you'll get. You're better off buying boxes in a variety of sizes from your local home supply store. Some special boxes you might want to consider:
Wardrobe boxes for hanging items
Specialty sized boxes for art and mirrors
Compartmentalized boxes for breakable items
3. Know your boxing basics
Think you know how to pack a box correctly? Consider these tips to make sure:
For anything breakable, pack the bottom of the box with a thick layer of paper. Be sure to stuff it into the corners.
Choose the right boxes for the right items. Heavier items -- like books and tools -- should go in smaller boxes. Lighter items -- like towels and clothes -- can go in big boxes.
Don't leave unnecessary space at the top of boxes -- they could collapse when stacked.
Avoid mixing items from different rooms in different boxes. It will make unpacking a lot easier.
Once you've filled and taped up your box securely, immediately label it clearly -- before you forget what's inside!
4. Think outside of the box -- literally
Get creative and make sure you're using everything at your disposal when packing up your home. For instance:
Pack your clothes in suitcases, laundry hampers, baskets and any other carriers you have around the house.
Save money on bubble wrap by using towels, washcloths and even clothes to pack breakable items like glasses and dishware.
5. Create an inventory
A home inventory is a smart thing to have for insurance purposes whether you're moving or not, but it just so happens that moving is a great time to put one together if you haven't already. As you pack your belongings, make a list of your most valuable items, and photograph them as well. This will protect your belongings in case of accident or theft.
6. Pack a first-night bag
There's nothing worse than arriving at your new home and not knowing where anything is. Besides the obvious overnight bag with a change of clothes and toiletries, pack a first-night bag with the following:
A flashlight
Trash bags
A box cutter
Cleaning wipes and other basic cleaning supplies
Toilet paper
Shower curtain
Snacks
Matches
Tool kit
Electronics chargers
Do you consider yourself a packing pro? If you have additional advice for easing the moving process, please leave a comment below.
Garret Stembridge is part of the team at Extra Space Storage, a leading provider of self-storage facilities. Garret often writes about storage and organization topics for homes and for businesses.