The average property claims settlement rose from $7,937 in 2012 to $8,517 in 2013, according to a J.D. Power and Associates study. The National Association of Insurance Commissioners reports that home insurance rates rose as well. Things like inflation and hurricanes have pushed the average annual premium up as much as 11.4 percent in places like Louisiana, and the national average premium has risen by 2.2 percent, to $822 a year. When homeowners are paying this much, many assume it's in their best interest to recover some of their money by filing a claim when they incur damage. But this might not necessarily serve you in some cases. Consider the pros and cons of filing before taking any action.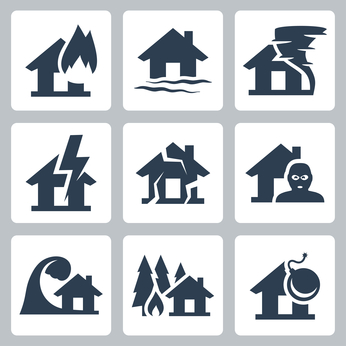 The Risks of Filing
Whenever you file a claim, you risk raising your premium. Nationally, filing a claim can raise your annual premium by an average of 9 percent, a recent Bankrate study found. In some states this is much higher—for example, in Minnesota and Connecticut, homeowners face a 21 percent increase. Over time, this can offset the money you gain from your claim. Visit InsuranceClaims.com for more information about the study.
What's worse: Your insurance provider can decide not to renew your policy, and other insurers may refuse to pick you up. If your home and auto insurance policies are bundled, this could affect your car coverage as well.
When to Avoid Filing
To reduce these risks, use caution when considering filing a claim. In certain situations, you may be better off finding other ways to cover your costs. For instance, if the damage was preventable and caused by negligence, your insurance company probably won't cover it anyway, so find another way to raise the money for repairs. You could tap your savings or emergency fund, or you may have to put it on a credit card. If you receive payments from a structured settlement or annuity, you may be able to sell all or some of your future payments for a lump sum of cash now. Visit J.G. Wentworth's FaceBook page for more information about selling your future payments.
You're also better off covering the costs yourself in cases where your claim wouldn't significantly exceed your deductible. For instance, if you have a $500 deductible, a $600 claim probably isn't worth the increased premium. And in cases where someone else caused the damage, you may be able to get the responsible person (or his insurance provider) to cover it.
If You Do File
In some situations—when the repair costs are exorbitant, for example—filing a claim is your best option. Make sure you follow the proper procedure to get the most out of your claim. Study your policy before an emergency strikes and know, for instance, whether your policy covers natural disasters. If you need to evacuate your home, ask your provider for an advance, and document any expenses.
Take reasonable steps to minimize further damage to your property, such as calling the fire department. File your claim promptly and make sure your provider follows up. If you need to negotiate your claim, consider hiring a state-licensed public adjustor to help you through the process. Visit the National Association of Public Insurance Adjusters for a list of adjustors in your state.